So the other day Damon was lazing around reading a cruising guide to Maine, dreaming of all the cruising we're hoping to do next summer on
Fulmar
. He and I got into a conversation about what lies beyond Christmas Cove -- virgin territory for the two of us. Muscongus Bay, full of fog and islands, is the gateway beyond our known world, so we delved into the cruising guide to find interesting spots to check out, and found a place we simply couldn't wait to visit. After a session on Google Earth flying around Muscongus Bay, it was off in the Mighty Kia, dog in the backseat, to find Bremen and the wreck of the Cora Cressy.
The Cora Cressy was once a queen of the sea: a five-masted schooner built in 1902 at the Percy and Small boatyard in Bath (where the Maine Maritime Museum now makes it's home). She was 276 feet long, and could carry 4000 tons of coal as she made her way along the coast.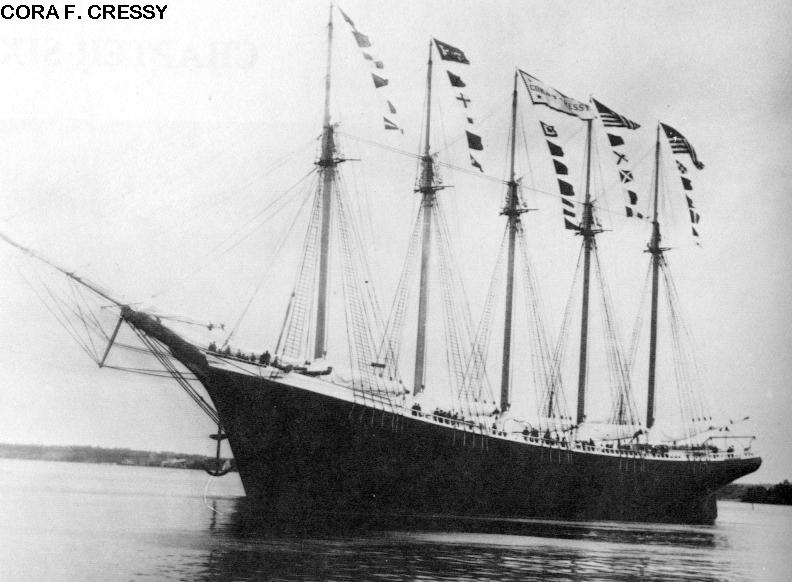 Alas, her days of glory were short. In 1928 she was severely damaged in a storm, and repairs were too expensive -- it was cheaper to replace her than fix her up. Life didn't quite end here however; she became a floating speakeasy, a role she held during the 30's. Once prohibition ended, she found her home in Bremen -- not as a boat, but as a lobster pound. I'm not too sure how this would have worked, but apparently the plan was to bring her into the bay, drill holes in her hull to allow water circulation, and sink her in place. Old Cora was too wily for all that though -- she'd been built too well, with thick planking that just couldn't be drilled enough. But the trip to Bremen ended her, and she sank in place. Supposedly you could still see curtains on her portholes until the 80's.
Our trip to visit Cora was easy. You can see her right from shore -- thick planks and all. It was a great way to enjoy some of the last of autumn. Check her out if you get a chance!
That's her. Keeping the dinghies safe as a breakwater.
So they seriously thought they could drill through that!
A lovely older work boat. Love me a well-kept boat.
It was indeed a working port.
Someone has new floats.
Another lobster pound -- less chancy than using an old schooner, but still defunct.
Wanna visit? I decided to start embedding maps rather than writing out directions: